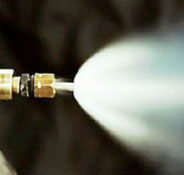 DIESEL FUEL INJECTORS Ford Powerstroke Injectors, Dodge Cummins Injectors, Chevy GM Duramax Injectors! New and Remanufactured Stock Injectors and Performance Injectors for daily driver, heavy towing, sled pulling and competition race applications. High quality remanufactured injectors, built with skilled craftsmanship using new Bosch parts. These injectors are built as a matched set, flow bench tested and adjusted for unified performance in every set of injectors so you can be sure that your engine will run smoothly and efficiently. The possibility of off-the-shelf new injectors lining up the same way is not guaranteed. Let Black Cloud Diesel Performance get you High Quality Remanufactured Injectors for less than the cost of new injectors AND upgrade the performance at the same time!
What Make and Model Truck Do You Have?
​
We have injectors from Swamps Diesel and Industrial Injection. Swamps Diesel specializes in the Ford 7.3L Powerstroke engine. For Dodge Cummins and Chevy Duramax, we offer injectors from Industrial Injection, who specializes in the entire diesel performance industry. Both Industrial and Swamps remanufacture injectors in Stock, Stage 1 and Stage 2, Street Race injectors using brand new internal parts. Get you the perfect injectors for your application at a great price. When upgrading from stock injectors to higher performance race injectors, it is important that your truck is set up to handle the injectors you are looking for. We here at Black Cloud Diesel are not only able to supply the injectors you need, but also any other upgrades that you may need in order to take advantage of your new Industrial Injection or Swamps Diesel fuel injectors.
Wide variety of fuel injectors including Baby Swamps, Stage 1, Stage 2, Stage 3, Wild Race and Dragon Fly, POD Prince of Darkness, Race 1, Race 2 and more.